---
---
HW-T921K
HUNTERWORKS HEAVY DUTY BELT
Fitment
2014-2022 Polaris RZR XP 1000
2014-2022 Polaris RZR XP 4 1000
2021-2022 Polaris RZR Trail S 1000
2016-2020 Polaris RZR S 1000 60"
2019-2020 Polaris RZR S4 1000 60"
Best Belt on the Market!!!
Made in the USA - Hunterworks belts are Made in the USA. These belts are engineered to meet or exceed OE standards.
Long Service Life - Made from a proprietary construction application, these drop-in belts require no clutching adjustments and have a minimal stretch effect under load for consistent shifting
1% Warranty Rate - These belts can sport the title of having a less than 1% failure rate! That's because these belts are purpose-built to handle the unique demands of harsh CVT applications.
Engineered for Toughness and Strength - Out of the 2 part numbers from Polaris, this belt closely resembles the thicker style belt. This belt is designed to be tougher and therefore, it is meant to be used for slower, big tire riders. These belts have deep trapezoidal top cogs and rounded bottom cogs that offer optimal heat resistance and let the belt run cooler over a longer period of time. Please note that this belt is for slow, low range only people with bigger tires who need a lot of belt grip. This belt with the required washer will limit your top speed to 65 to 70 mph. We have manipulated the dimensions to make the noisy secondary clutches quieter but that is not a 100%, some have shaft spacing issues and some have a very loud secondary.
Common Sense 1 Year Warranty - We'll get down to what the warranty covers; As long as you didn't purposely try to blow your belt up, install it on the wrong UTV, install it incorrectly or have other clutch issues, we will replace the belt with a new belt. For all models, you will need to have round rollers on your secondary clutch for the warranty to be valid!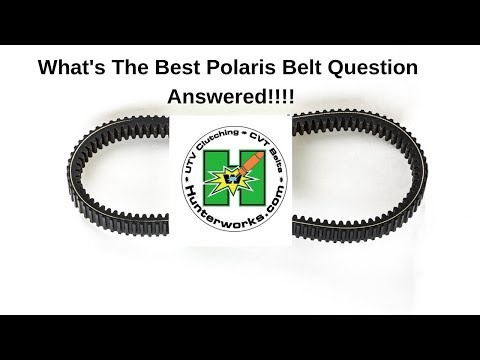 ANSWERED!!! What is the best Polaris RZR/Ranger/General belt?
Video will open in a new window
Using the eBay App? Paste link into a browser window: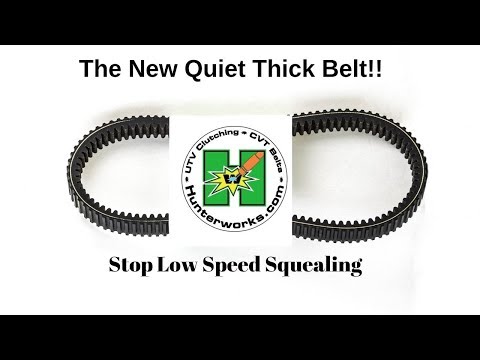 HW New Quiet Thick Belt for Polaris RZR's
Video will open in a new window
Using the eBay App? Paste link into a browser window:
---