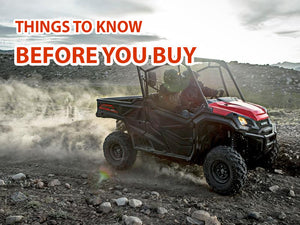 Things to Consider When Purchasing a UTV
Are you thinking about buying your first UTV, or trading your old one in for a new one? If so then you'll want to do your research and find the one that best fits your needs. You don't want to rush out and buy a side by side and not have it fit your style or needs. You should also read reviews and see what other consumers have said about models that you are interested in.
Things to Consider
When you are paying thousands of dollars for a leisure toy, or piece of work equipment you want to make sure that it is going to be best suited for your needs. Take a look at these few suggestions on what to consider when in the market for a UTV.
What is your intended use

Seating Capacity

Price

Features
Intended Use
Ask yourself how much you will use it, what type of terrain you will be using it in, and how often you are going to be using it. Are you looking for a workhorse for the ranch or a sporty trail riding side by side? You will want to be sure that your selection is going to be the right fit for you, you don't want to take the Can-Am Maverick out on the ranch to work on fences and feed animals, and you certainly don't want to take the John Deere Gator out on the trails and try to zip around the curves and over the rocky terrain.
Seating Capacity
You want to make sure that the model you select will fit the passengers that you want to take with you. You certainly don't want to get a single-seater if you are a family of 4, that means you are leaving the others behind. If you are going to be riding alone, you don't want to add the extra weight of having a 4 seater for just one person. While single seaters are not as common the most popular models will seat 2 to 4 people at a time.
Price
You want to make sure that what you buy is the best deal for your money. You don't want to pay for features that you don't want or won't use, you don't want to pay more than the value of the UTV. Compare prices at different dealers until you find the best price for the UTV that you want to purchase. You'll want to try and keep some money in your pocket for maintenance and tire replacements.
Features
You know what features are important to you, and what features you want to see in your side by side. Shop around and find the one that is the match or as close as your willing to spend the money on. Many of the desired features can also be found as upgrades that you can do at a later time. Engine, transmission, and tires are all things to consider before you make that initial purchase. Just don't forget that you don't need to make all your upgrades at time of purchase.
It's a Wrap
No I don't mean the graphics on your new side by side is a wrap. There are literally hundreds of things to consider before making the final purchase. You will need to keep in mind the seating, the price and the use in which you are going to be using the side by side. Research, read reviews and test drive them before purchasing. You won't be happy with a machine that is too much for the farm, and you don't want to spend thousands of dollars on something that won't work your family or situation.
---