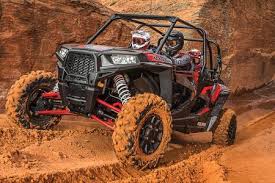 5 Top UTV's of 2019
UTV means utility vehicle or also known as a side by side. They can be found in a range of 1 passenger to 4 passengers. A UTV will move fast and handle different types of terrain as well as make a workhorse for the ranch or farm. Side by sides make a great transportation in the woods for hunting and trail riding, perfect for the sand dunes of the desert and the workload of the ranch. So let's see what 2019's top 5 UTV's are.
2019's Top UTV's
There are many manufacturers, models and styles of UTV on the market today. They range in price, use, features, passenger capacity and look. Just like any other vehicle there are always preferred or top-rated models so let's see what they are for 2019.
Polaris RZR XR 4 Turbo EPS

Polaris General 4

John Deere RSX860

Textron Arctic Cat Wildcat X

Can-Am Maverick Trail 1000R
We will look at each one and see what makes them top worthy.
Polaris RZR XR 4 Turbo
Coming in at 168 HP turbocharged 4-seater this side by side offers some amazing features. It has a digital display cluster, LED lighting, and an on-demand AWD system to make this side by side a 2019 fan favorite. It offers speeds of up to 80 miles an hour and has a starting price of $22, 699.
          Pros:
            13.5-inch ground clearance, smooth ride, handles well, fully customizable
          Cons:
            Paint chips easily, A-Arms need to be stronger, lack of tight turning radius
Polaris General 4
The general 4 has 100 horsepower, 4500 lb wench, plus 4 seats making this an adventure-seeking machine for the whole family. You can upgrade to the Ride Command package for GPS navigation, premium audio and front, and rear-mounted cameras. This UTV has achieved 4.4 out of 5 stars and has claimed a starting price of $21,799.
          Pros:
            4-seater, powerful and smooth ride, spacious and customizable
          Cons:
            Not enough ground clearance, hard to shift gears, rough low-speed engagement
John Deere RSX860
This is not your typical side by side esthetics, but it's still in the top 5. It is good for trail riding, or a workhorse on the ranch. This side by side seats 2 people, has a 400lb rear cargo box and moves up to 60 mph. It has only achieved a rating of 2 out of 5 stars and comes with a starting price of $12,199.
          Pros:
            Rear-mounted utility bed, ease of use
          Cons:
            Weak battery, drive belt, not for high speeds, vibrations cause bolts to losen causing
            Mechanical damage to the machine.
Overall this machine is not made for trails and high speeds according to user reviews. This side by side is definitely a workhorse on the farm or ranch and is best suited for work not trails.
Textron Arctic Cat Wildcat X
This UTV has a ground clearance of 13 inches, 4-wheel drive, high back bucket seats, and 3 point seat belts and a rear compartment holding up to 300 lbs. It definitely provides comfort in any conditions and remains sporty. The Wildcat X starts out at $15,999 and the Wildcat X LTD starts out at $17,499.
          Pros:
            Fully customizable, sporty, quick, comfortable on any terrain
          Cons:
            Short warranty period
Can-Am Maverick Trail 1000R
An easy handling side by side, performance designed suspension and quick response transmission meant for racing. Built for comfort, style, and performance, it seats 2 people and has a starting price of $17,999.
          Pros:
            Stylish, storage bed, ready for any terrain
          Cons:
            12-inch ground clearance, small fuel tank.
Finals
While these UTV's are all great machines, none of them seem to be multiuse. Most of them are great for the trails and racing and remain sporty. I personally recommend the WIldcat X LTD by Textron. Regardless of what others say, you will get the most out of your UTV if you take care of it and don't beat it up whether it's a $28,000 machine or a $16,000 machine.
---